Author: Anthony Doerr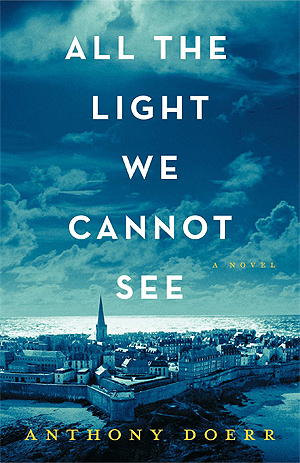 Book Blurb:
Marie-Laure lives with her father in Paris near the Museum of Natural History, where he works as the master of its thousands of locks. When she is six, Marie-Laure goes blind and her father builds a perfect miniature of their neighborhood so she can memorize it by touch and navigate her way home. When she is twelve, the Nazis occupy Paris and father and daughter flee to the walled citadel of Saint-Malo, where Marie-Laure's reclusive great-uncle lives in a tall house by the sea. With them, they carry what might be the museum's most valuable and dangerous jewel.

In a mining town in Germany, the orphan Werner grows up with his younger sister, enchanted by a crude radio they find. Werner becomes an expert at building and fixing these crucial new instruments, a talent that wins him a place at a brutal academy for Hitler Youth, then a special assignment to track the resistance. More and more aware of the human cost of his intelligence, Werner travels through the heart of the war and, finally, into Saint-Malo, where his story and Marie-Laure's converge.
My Review:
This is one of the best books on world war that I have ever read. I am enthralled by this genre from the time I read Anne Frank.
Apart from your usual genocide details that you would find in a book whose story is based on World War 2, the aspect of the story that really put it a class apart is its narration. Since one of the main characters is blind, the way the author describes the story in her point of view is mesmerizing. Such writing reminds you why you fell in love with reading in the first place.
The character complexity is amazing, the way the story progresses you find yourself coming close to the characters and form different kinds of bonds with each.
While I want to write more about this book, I feel that it is best if the reader goes into it with a clean slate in order to feel the raw emotions.
I rate this book 4 out of 4. Even if you are not a fan of the book, you might just want to pick this one. It is one book that everyone needs to read.