Author: John Boyne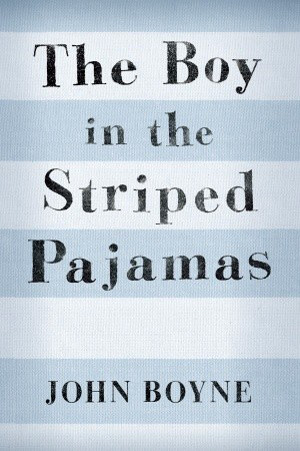 Book Blurb:
Berlin, 1942: When Bruno returns home from school one day, he discovers that his belongings are being packed in crates. His father has received a promotion and the family must move to a new house far, far away, where there is no one to play with and nothing to do. A tall fence stretches as far as the eye can see and cuts him off from the strange people in the distance.

But Bruno longs to be an explorer and decides that there must be more to this desolate new place than meets the eye. While exploring his new environment, he meets another boy whose life and circumstances are very different from his own, and their meeting results in a friendship that has devastating consequences.
My Review:
I stumbled upon this book because of Goodreads. I had just finished reading The Book Thief, and I was suggested this book. Seeing wonderful reviews, I decided to pick this one up.
It was such a heart breaking read. This is a book about a nine year old boy named Juno whose father runs the infamous Auschwitz, for him it is Out-with. He knows that his dad works with :The Fury and which was why he had to move. What he does not understand is why the new place is so odd. He can see some people behind a barbed fence who are "odd" as they are all wearing striped pajamas. He gets thoroughly confused when one such man who cooks at his place says he is a doctor.
One day he decides to investigate for himself, and comes across a boy of his age on the other side of fence. The story then moves on to how a German and a Jew became friends. Both divided by fence and united by humanness.
The ending is just so touching. It has been written with such innocence and forthrightness that you will not see in books written in this era.
While there have been criticisms that Bruno is too naive for a nine year old, and to an extent I agree that nine year old would know a bit more than him, the overall story line is way better when you take it as it is.
If you like ww2 fiction books, be sure to pick this one up!
Buy The Boy in the Striped Pajamas (Young Reader's Choice Award – Intermediate Division)