Author: Rainbow Rowell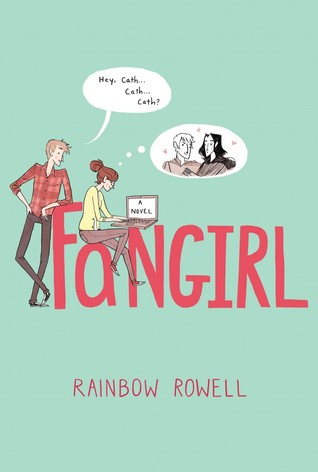 Book Blurb:
Cath is a Simon Snow fan.
Okay, the whole world is a Simon Snow fan…
But for Cath, being a fan is her life—and she's really good at it. She and her twin sister, Wren, ensconced themselves in the Simon Snow series when they were just kids; it's what got them through their mother leaving.
Reading. Rereading. Hanging out in Simon Snow forums, writing Simon Snow fan fiction, dressing up like the characters for every movie premiere.
Cath's sister has mostly grown away from fandom, but Cath can't let go. She doesn't want to.
Now that they're going to college, Wren has told Cath she doesn't want to be roommates. Cath is on her own, completely outside of her comfort zone. She's got a surly roommate with a charming, always-around boyfriend, a fiction-writing professor who thinks fan fiction is the end of the civilized world, a handsome classmate who only wants to talk about words… And she can't stop worrying about her dad, who's loving and fragile and has never really been alone.
For Cath, the question is: Can she do this?
Can she make it without Wren holding her hand? Is she ready to start living her own life? Writing her own stories?
And does she even want to move on if it means leaving Simon Snow behind
Review:
Brownie points for Rainbow Rowell for sketching the perfect and the most realistic Fangirl. I like reading the books by this author, simply because her heroines are unconventional and someone you might know.
I liked the book because Cath was like me in so many ways!
If you are an introvert, in love with a book series since ages, and are now gaping in the seemingly adult world where you are expected to "grow out and grow up" from the fantasy series and start doing more adult stuff like going to parties and drinking etc, then you would relate to Cath as well. The social anxieties of Cath, were actually the things that I have faced. Reading her views and inhibitions on meeting new people, or confrontation, I would have done the same things, well almost, I mean I had the same thoughts, but I did go out and not spend time alone in the room.But, such a relatable character!
Is not it funny though? If you are a "fan" of a sports team, and you can quote the scores of your favorite player in your sleep, and that's perfectly normal…But if you have a favorite book, and quote the lines from the book, you somehow become weird, boring, dull, nerd etc etc.
Cath is obsessed with the Simon Snow, which was a seven book series that were also made into movies. It becomes quite obvious that Simon Snow is Harry Potter series..Which made it even more fun to read.
There was a point in the book, where Cath's writing teacher tells her Fan Fiction is plagiarism, and the entire debate of what constitutes copyright and Cath's inner conflict of the same was quite interesting.
If you have not read Eleanor and Park (book review here) yet, it would be a better idea to read this book first.