Author: Cierra Rantoul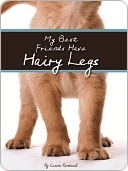 Book Blurb:
"My Best Friends have Hairy Legs" is the story of my dog, Trooper, and me overcoming abusive relationships. It is a story about his growth from a fearful puppy into a confident adult dog – and mine – from a psychologically abused wife into a confident woman who can look back at my past with laughter and no regrets. I don't believe my story is unique. Our stories might differ, the details change, but the emotions and feelings are the same. I wanted to tell our story because we have survived. I wanted to tell it to give hope to others who are struggling to find their way. There is a light out there. There aren't any bras burnt at the end of this book – or dog collars – but the metaphor is the same. We are happy with who we are.
My Review:
I had very high expectations from this book, simply because my best friend does indeed have hairy legs!
But, this book did not raise up to the expectations.
It was like reading Marley and Me, but knowing everything about John's frustrations, John's work, John's expectations…with a brief mention of Marley a few times.
The author has written it from her point of view, and all the abusive relationships she went through, but, there is a fine line between writing your experiences and throwing a pity party, and frankly the book had more of a "pity me" vibe.
While I did like Trooper from what little I knew of him, I could not connect to any of the characters as each had so little time, I found myself skipping chapters upon chapters and reading only the parts where trooper was mentioned…
Do I recommed it? Not really…if you want to read about pets…read, Marley and Me again Instead.