Book Review: E. L. James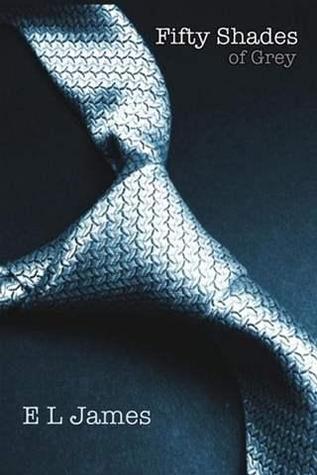 Book Blurb:
When literature student Anastasia Steele goes to interview young entrepreneur Christian Grey, she encounters a man who is beautiful, brilliant, and intimidating. The unworldly, innocent Ana is startled to realize she wants this man and, despite his enigmatic reserve, finds she is desperate to get close to him. Unable to resist Ana's quiet beauty, wit, and independent spirit, Grey admits he wants her, too—but on his own terms.

Shocked yet thrilled by Grey's singular erotic tastes, Ana hesitates. For all the trappings of success—his multinational businesses, his vast wealth, his loving family—Grey is a man tormented by demons and consumed by the need to control. When the couple embarks on a daring, passionately physical affair, Ana discovers Christian Grey's secrets and explores her own dark desires.

Erotic, amusing, and deeply moving, the Fifty Shades Trilogy is a tale that will obsess you, possess you, and stay with you forever.

This book is intended for mature audiences.
My Review:
Well, that's a few hours of my life I will never get back
This book is a New York Times Best Seller…woa..my respect for this list dipped so low..
It was after I read this book, I came to know it was a twilight fan fiction, and that explains so much! E. L. James took Twilight, and dragged it to even deeper depths. Anesthesia Steel makes Bella Swan look like a strong, Independent and Sane Person.  Also, while reading Twilight at least we had the comfort of Stephanie Meyers' entertaining writing, this book is extremely poorly written.
While everybody knows what the book is about, I will not go into graphic details (pun intended), I will focus on storyline and characterization.
Anesthesia Steel is one of the most irritating characters EVER. Not only is she very weak, she also has a vocabulary of a 6 year old, and unfortunately as the novel is in her point of view, we have to constantly endure her saying the same words again and again and again and again…and again. Ana is a 22 year old, who acts like she is eleven.
It took a hell lot of time to read it, because I could only endure "Holy Cow" and "Channeling my inner goddess"  or even  worse "Geez" for maximum five times in one sitting.
Christian Gray was a person who was so controlling, that he thought that it is his "care and love" that makes him decide how, what, when, and the quantity of food his lover should eat! And that is one of his most 'reasonable' expectation', among things like wear only the clothes what I give you, throw away the car that you got instead you will travel with only my driver in my car, or if and when she can roll her eyes…etc.
If the characterization is bad, the story line is even worse.
A young, Innocent girl who is beautiful, but thinks she is plain and not worth it,who meets a rich, powerful, confident guy who then becomes the only thing she ever thinks about.
I thank the lucky stars that I did not spend money on this book or own a physical copy, as I would never EVER want such a pathetic book in my collection.
About the 'Adult part', it was not as 'Shocking' and 'Exciting' as the hype would have us believe. I do not know, maybe to someone who has never read an adult book in their lives before, it could  seem like that, but let me assure you there are far better books with Adult content, which also have a wonderful, Unique storylines and Intelligent Characterization.
Would I read the remaining two books of the trilogy?
Not even if my life depended upon it. I'd sooner give my life than put myself through the *holy cow, inner goddess, geez* with a few other words scattered around, ever again.